25 Useful Apps for Traveling
We all know planning a trip can be a pain and take almost all the fun out of the trip itself. I don't know about you, but I have missed out on some trips of a lifetime simply because I did not want to deal with the headache of booking flights, finding affordable accommodations, and mapping out a route. However, with all of our new technology, traveling in 2019 should never again be this difficult. That is why we gathered our list of the 25 most useful apps for traveling!
PackPoint
Price: Free with in-app purchases or Premium for $2.99
You will never forget to pack anything ever again with PackPoint. This app will help you build the perfect packing list based on the length of your trip, weather of the location, and the activities you're planning on partaking in. All you have to do is type in where you are headed to, for how long, and what type of trip you are taking. The app will then give you a detailed list on what you should throw in your suitcase based on your special travel needs.

Google Trips
Price: Free
One of my personal favorite travel apps is Google Trips. If you have a Gmail account, then it's going to be one of your favorites too. Google Trips will automatically take all your reservations from your Gmail account for your upcoming trip and conveniently organize them on the app by each day. They will then send you suggestions on what to do based on the area and you can even check out reviews from other people as well.
Roadtrippers
Price: Free or Plus for $29.99/year
When you're planning out your next road-trip, don't forget to download the app Roadtrippers. All you have to do is type in your starting point, destination, and any stops you want to make along the way. Roadtrippers will then plan out your entire adventure for you while also giving you suggestions on where to stop along the way like restaurants, attractions, outdoor recreations, and places to stay.

TripIT
Price: Free or Pro for $49.00/year
TripIT helps you organize, sync, and share your travel plans right in the palm of your hand. Once you book your flights, car rentals, hotels, and other amenities, you can email them to TripIT, where they will be uploaded right onto your app. TripIT then stores all your information while letting you send your itineraries to whomever you choose. You can also access your itineraries offline and get directions to wherever you need to go.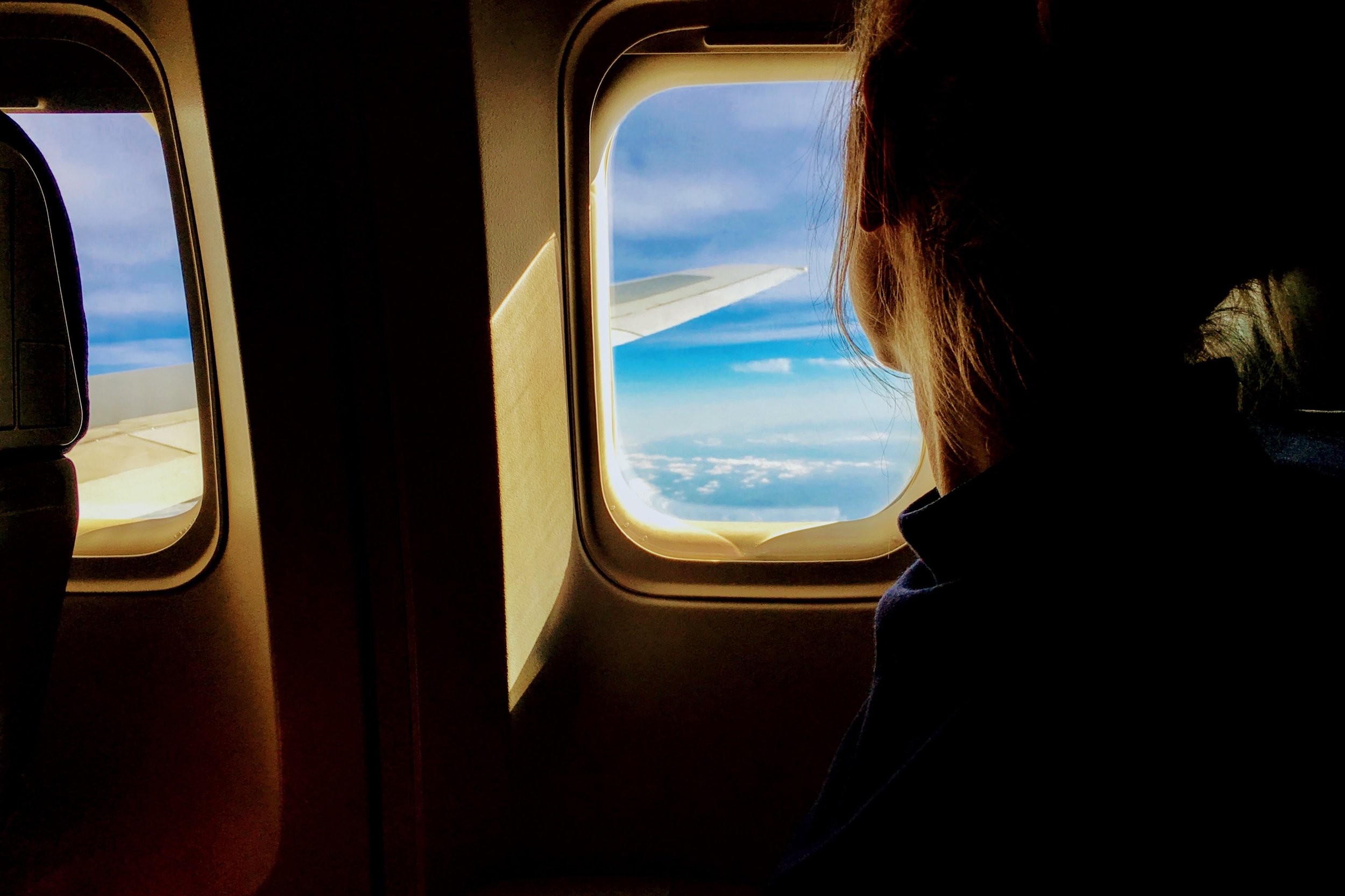 Rome2rio
Price: Free
If you're a world traveler but hate planning like me, then this app is for you. All you have to do is plug in where you wish to go and let the app do the rest. Rome2rio will then give you a step-by-step route on how to get to your destination while breaking down fare estimations and routes.
FLIO
Price: Free
Stuck in the airport for a long layover? Make the most out of your time and download FLIO. This app is your airport guide to hundreds of airports around the world. FLIO provides you with airport mapping, discounts on airport restaurants, flight tracking and scheduling, and lounge access at a lower price.

Skyscanner
Price: Free
Platform: IOS, Android, and Windows
If you're looking to save money on your trip then download Skyscanner right now. Skyscanner searches for the most affordable flights, car rentals, and hotels. If prices are high, then Skyscanner will tell you when it's the best time to buy and get notifications on when prices drop.

Hopper
Price: Free
Just like Skyscanner, Hopper will help you save money on your flights. Hopper predicts when it's the best time to buy flights and will monitor them so when it's time to buy, it's just one click away. They will also tell you when you to wait to buy a flight and give you exact dates and times on when it will be the cheapest.

Hotel Tonight
Price: Free
Have you ever been stuck somewhere without a place to stay? Hotel Tonight has you covered. They offer last minute deals on hotel rooms for travelers stuck without a place to stay or just with an extremely flexible schedule.

Hostelworld
Price: Free
Hostelworld is the perfect app for anyone looking to travel with a tight budget especially around Europe. You are able to scan through Hostels in over 170 different countries to find the lowest prices possible, some prices as low as a few dollars! They let you filter through hostels according to the room type, amenities, price, rating, and form of payment. You can even see the ratings on the cleanliness, staff friendliness, and location.
Airbnb
Price: Free
If you're looking to experience a city like a local, then staying in an Airbnb is a must. This app connects travelers with people looking to rent out their home, apartment, condo, camper, tree-house, or anything you can possibly imagine living in! They even offer experiences such as guided hikes, workshops, lessons, encounters, and much more unique activities.

Dayuse
Price: Free
Dayuse will allow you to book a hotel room for the daytime without the commitment of staying overnight. It's perfect if you ever need a quick nap or shower during the day before your red-eye flight, but have already checked out of your hotel. They even offer prices up to 75% off the overnight prices.
Couchsurfing
Price: Free
Couchsurfing allows you to stay with locals all around the world and have an experience you couldn't have in a hotel. It is quite similar to Airbnb except the user stays with the host as opposed to being alone - oh and it's significantly cheaper! You can even attend regular events that Couchsurfers put on in hundreds of cities.
GasBuddy
Price: Free
If you're ever on a road-trip and see its time to refuel, pull out your Gasbuddy app. You can see where the next gas station is and how much it will cost. If you wanna save a couple dollars then Gasbuddy can help you find the cheapest gas station within a reasonable distance.
Uber
Price: Free
Probably one you have already, but Uber is still one of the safest ways to hail a taxi, especially in another country. Rather than getting into a random taxi, you are able to order a car through the ride-sharing app to your specific location. You can even track your drivers approaching location and safely pay with your credit card through the app.

Rideways
Price: Free
Platform: IOS
Rideways is the perfect app for airport transportation at an affordable price. You can instantly book global airport transfers like taxis, cars, trains, and buses in over 500 cities worldwide. From affordable cars to luxury cars, they have all your needs covered.
Maps.me
Price: Free with in-app purchase options
Maps.me is a detailed offline map that provides turn-by-turn directions. It will get you where you need to go if you're lost in a European city and need to find your way back. Trust me when I tell you that you need this app if you're traveling anywhere without service! This app was my lifesaver when I was lost on a Vespa in the countryside of Croatia. It can, and will, get you where you need to go.


AllTrails
Price: Free with in-app purchase options
The perfect app for any adventurer is AllTrails. This app allows you to find the perfect hike, bike ride, or trail run wherever you are. With over 60,000+ trails all over the world, AllTrails lets you pick your trail depending on difficulty level, length, and rating. You can even look at other hikers reviews, pictures, and maps to see if it's the right hike for you. Not to mention, AllTrails allows you to go offline so you can find your way back if you ever become lost.

WhatsApp
Price: Free
Platform: IOS, Android, and Windows
One of the best ways to communicate abroad, without getting an international phone plan, is through WhatsApp. WhatsApp is a data-free messaging app that uses your phone's internet connection to avoid SMS fees. You are able to securely send messages, pictures, and videos to 256 people at a time.
Viber
Price: Free with in-app purchase options
Platform: IOS , Android, and Windows
Similar to WhatsApp, Viber let's you communicate to friends and family without requiring an internet connection. It's a great way to avoid being charged an international plan, but it does require that you have WiFi to use the app. You can talk face-to-face through video chat, send a quick instant video message, or message to loved ones back home.

Yelp
Price: Free
Platform: IOS, Android, and Windows
Here's another one you probably have: Yelp is one of the best apps for searching through restaurants, bars, and shops around you. With features such as reading or posting reviews and photos, getting directions, viewing menus, and finding places nearby, Yelp is tough to beat.

Happy Cow
Price: $3.99
I'm sure all vegans understand the struggle of trying to find a healthy vegan meal while traveling. HappyCow is the apps store's #1 vegan and vegetarian restaurant guide, providing users with over 75,000+ vegan/vegetarian friendly restaurants all over. HappyCow even features an interactive map that shows you which restaurants to choose from, while also providing pictures and reviews.


XE Currency
Price: Free or Pro for $1.99
An essential travel app for anyone venturing outside the country is XE Currency. With XE Currency you are able to convert any currency in the palm of your hands in just seconds. They even provide you with historical charts and a customize currency list with up to 10 countries at once. Not to mention they store your latest exchange rates so that you are able to access them with no internet connection.


Duolingo
Price: Free with in-app purchases or Premium for $9.99/month
Platform: IOS, Android, and Windows
One of the best ways to get prepared for visiting another country is to learn the language. Duolingo, one of the most popular language-learning apps in the world, has over 30 languages to choose from. The app makes learning a new language fun and easy with their bite-size lessons, goal tracking, and basic listen then speak lessons. Although this app is only available through WiFi, you have the option to upgrade to Duolingo Pro to download lessons offline.

Google Translate
Price: Free
If you don't feel like learning a new language before venturing out on your trip, just download Google Translate. Whether you're reading a sign or listening to someone speak, Google Translate can translate it in just about any way possible. You have the options to translate through typing, camera, text, speech, handwriting, phrases, and even when your phone is offline.



In 2019 we posses the technology to make any task quite a bit easier, especially when it comes to traveling. Whether you need help finding cheap flights, booking a unique place to stay, or just finding the best spots to grab lunch, your phones got you covered. So before you book your next adventure, don't forget to checkout these 25 useful traveling apps and never stop exploring!