THE #VANLIFE MOVEMENT: WHAT IT'S REALLY LIKE TO LIVE ON THE ROAD
The van life movement has exploded over the past few years. Every other Instagram post on any adventure channel features a picture of a campervan parked in some epic location, its drivers holding a cup of coffee as the sun begins to rise. Questions begin to roll through our heads: How do they afford to travel? Why did they choose that van over others? How did they construct the inside? How did they get started?
To get some answers, we talked to four amazing couples and asked them about their experiences: the challenges they face, their favorite memories, and a few tips and takeaways for those who may be interested in joining the #vanlifemovement!
Katie & Evan
Katie and Evan had spent most of their weekends camping and going on road trips long before they even thought about converting a van into a home. After Evan told Katie he was wanting to try full-time van life, the Portland natives began planning this exciting new chapter together. In October of 2016, they bought their 2016 144' WB Mercedes Sprinter High Roof. After around six months of building the inside to their liking, the couple moved into the van full-time in June of 2017. Over the next year, they explored all 50 U.S. states and parts of Canada. Originally, Evan and Katie had saved enough money to travel in the van for around a year, but in January, Katie landed two remote jobs - the Editor-In-Chief of Go-Van and the Social Media Specialist for Travel Her Way - making the idea of van life for the indefinite future a possibility. Evan was able to find seasonal work in Oregon. Currently, the couple is recharging in their home state and plan to hit the road again in the fall.
"I have never felt so in control of my own life!"
Challenges:
"It's hard to pinpoint one thing that is overwhelmingly challenging about van life. Overall, it's the best way of living I've ever experienced. Even the 'hardest' or 'most challenging' aspects of this lifestyle are really just annoying at their worst. The challenges show up in various small ways, instead of combining into one giant hurtle to overcome.
The best way I can describe the hardest part of it all is that everything is heightened, especially your uncomfortability. You sort of learn to be comfortable in uncomfortable settings, because you have to. It's freezing in the winter and sweltering in the summer. Showers and toilets are not always accessible. If you burn something while cooking, the smell lingers in the van for a long time. When you're tired, you have to stay up to find a safe place to park for the night. And there is dust; so much dust, everywhere, all the time. With all this being said, even if you added up every single annoying thing that occurs throughout a day, I promise that the positives still heavily outweigh the negatives. Plus, being uncomfortable on a regular basis forced me to relax and stop sweating the small stuff so much. I am a much more laid back and satisfied person now than I was a year ago."
Favorites:
"The freedom. I have never felt so in control of my own life! I get to wake up every day and decide what I feel like doing. If we're not intrigued with our location, we can pack up and go to the next destination. If we fall in love with a certain area, we can stay for as long as we want. The freedom has allowed me to make erratic decisions, leave someplace too early and regret it, and stay somewhere so long that I feel like I'm wasting time. Through all the trials and errors of the past year, I have learned so much about myself as an individual and as a partner. It has forced me to become more self-aware and just lead me to be a better traveler and individual in general."
"Even the 'hardest' or 'most challenging' aspects of this lifestyle are really just annoying at their worst."
Tips & Takeaways:
"My biggest piece of advice is if something, like van life, is interesting you, figure out why it's intriguing to you and how you can make it happen. Living in a van or traveling full-time looks different for everybody. Your journey is going to depend on why you're doing it and what you're looking to get out of it.
I've met people on the road that are more interested in settling down at a campsite for two to three weeks, while others have a bucket-list they're trying to complete and never stop moving. It's also going to affect what kind of adventure rig is right for you. There are some vans with no electricity and just a cooler. There are some vans that have functioning bathrooms with hot water. Knowing your reasoning behind this endeavor is really going to help you make the thousands of small decisions that are involved with buying a van, converting it, and moving into it.
Also, "vanlife" looks like one thing on the outside and people have a very different opinion than those of us who are living the lifestyle on a daily basis. Before I moved into my van last summer I expected every campsite to be breathtaking, every moment to be full of bliss, and to generally live a stress-free life on the road. While these things might be true some, if not most, of the time, it's definitely not like that every day. Life on the road is still life. There are still things that need to be done in order for my life to be functional.
Additionally, not every day is wonderful. There are some days where we spend hours driving down dirt roads without any luck finding a campsite and we end up sleeping in a Walmart or casino parking lot. There are definitely discouraging moments, just like there are in any lifestyle, but I do this because I love living this way. The benefits always outweigh the challenges."
Mak & Owen
Mak and Owen met at Savannah College of Art and Design in 2008 while on the swim team together. Mak was born into a military family so she grew up traveling: at a young age she had already lived in Germany, Hawai'i, Georgia, Kansas, Washington D.C. and New York. Her parents lived by the notion that every place had something amazing to offer, so every weekend they were out hiking, camping, or exploring a new city. Owen's love for travel started with his love for Mak: after she graduated they went on a road trip, and that was that. The couple works remotely from their van so they can draw inspiration for their work. Mak works as an Illustrator and Graphic Designer and Owen works as a Motion Graphics artist. The couple spends their weekdays in cell phone range, talking with clients and working from their van. On the weekends, they venture out into the wild. The pair plans to explore more of the U.S. and Canada over the next year or two, then travel down the Pan American Highway into Central and South America. Once they've seen all that they can see, they dream of then shipping their rig to Europe and continuing their life on the road overseas.
Challenges:
"The hardest part about van life is probably balance for us. We work full time as designers even though we live nomadically. It can be really difficult to find the balance between time dedicated to work and time dedicated to travel. Our travels inspire our work, and our work funds the travels. It's important to keep those two things in balance with one another, but like most things in life there is a constant ebb and flow, it's just important for us to stay flexible and go with it!"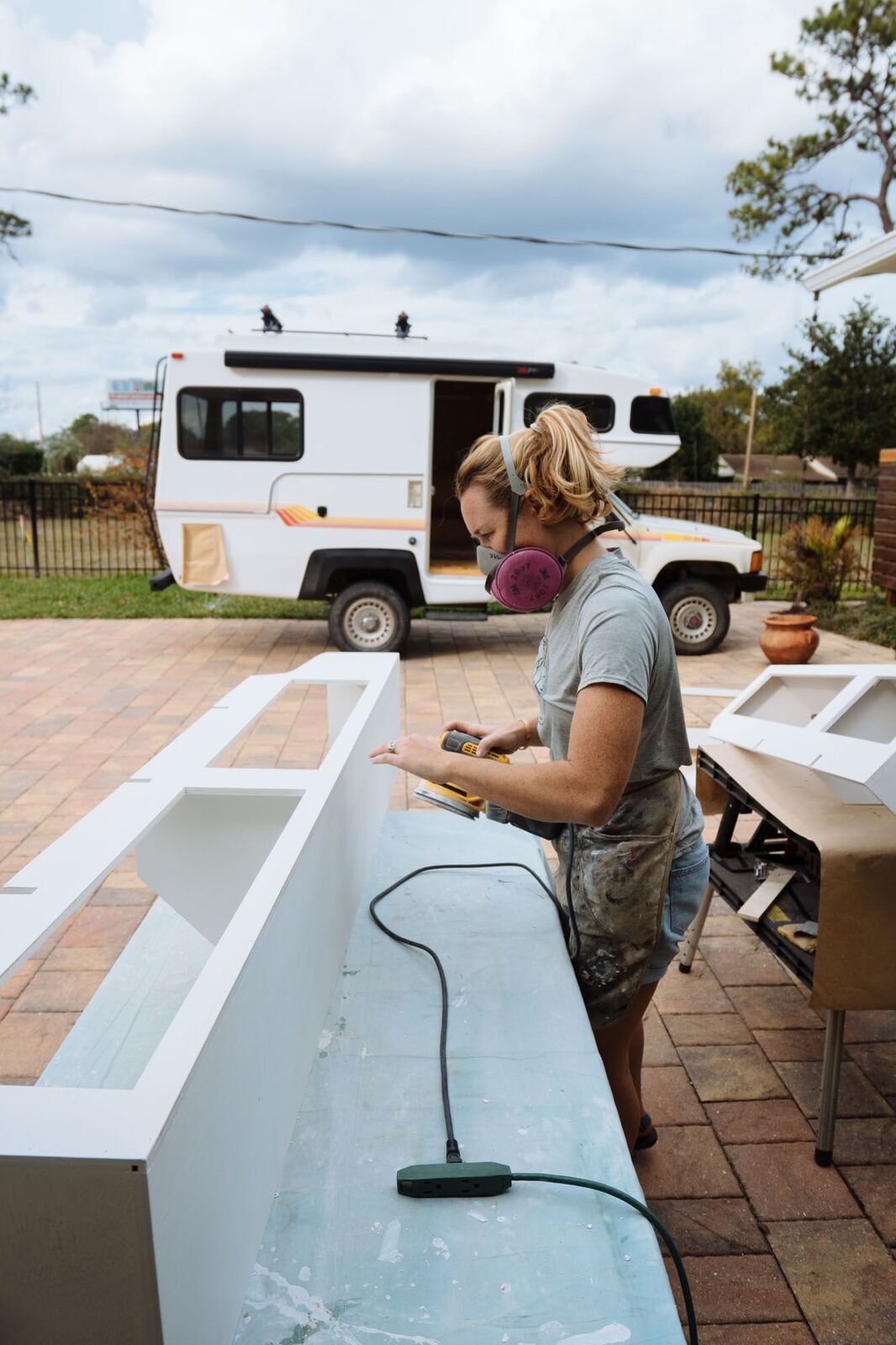 "You do not have to have an overpriced, overly decorated sprinter van to live or travel."
Favorite Adventure:
"There are countless amazing memories and favorite places we have collected along the way and it's so difficult to pull just one aside. If we absolutely had to pick, we'd probably say that Baja is one of our favorite places because we've had some of the most incredible experiences there! We went with some wonderful human beings and got to do all of our favorite things: surf, spear fish, and chill!"
"So many people reach out to us and ask how they can get into van life and a lot of people feel held back by what kind of vehicle they have access to/can afford. I want to make it clear that if you have a little sedan that's perfect, if you have a pickup truck that's perfect too! You do not have to have an overpriced, overly decorated sprinter van to live or travel. As long as you have a vehicle you can trust there is a way to make it work on the road! It more important that you are out there enjoying the world then what vehicle you are doing it in.
If you want to get out there, get out there and know that you'll always have an advocate in us! If I was to pass on any advice about having a brand voice it would be to be yourself! I realize that is cheesy advice, but it will always come easy, it will always be authentic, and it will always be cohesive because and the end of the day it's you! One thing we realized is how much strategy day to day life takes. There's so much cooperation/coordination to do simple things such as making a meal in a small space, figuring out where you will be camping for the night, and where your next shower will come from. For a lot of people that daily strategizing is exhausting, but for us, we really thrive on it."
Emily & Griffin
+ Luna the dog!
The dream of living full-time in a van began at different times for Emily and Griffin. Obsessed with rock climbing, Griffin watched climbers travel all over the world to beautiful places to climb and wanted to feel that freedom and sense of exploration. The night Emily and Griffin met, she casually told him how she wanted to live in a bus and travel the world: It was love at first sentence. They soon got married and began looking for a van to convert into their home on wheels. After not being able to find any great remote jobs, the couple then decided to apply for part-time jobs at whatever location they were at. Though this wasn't their original plan, it turned out to be one of the best decisions they made. They have found that it makes them stay longer in a certain area, allowing them time to explore and get to know the people in the community. The pair has worked at beach clubs, climbing gyms, and coffee shops all over the U.S. Along for the ride is their German Shepherd, Luna, who is a total handful but also a total sweetheart. Griffin and Emily cannot imagine doing this without her and love seeing her play outside all day every day.
Challenges:
 
"The hardest part of van life for us has been leaving our friends and family. Going from place to place makes it hard to build real relationships with people, so we have struggled with the lack of community on the road. That being said, we did just go to our first 'van life gathering' and met so many amazing people that we plan to keep up with. There is a van life community out there, it is just hard because we are all traveling all of the time."
"There are always a million excuses for not chasing after a dream, and if you let yourself believe any of those excuses then you will regret that for the rest of your life."
Favorite Part:
"Our favorite part about living in a van full time has been the ability to travel and experience so many new places while spending an unreal amount of time with each other. Not many couples would choose to live in such a small space with one another with no end in sight, but we love it! You quickly realize that there is nowhere to hide in the van and you are forced to talk and figure things out even when it gets really hard. We have learned so much about each other and feel like this lifestyle has made our marriage a million times stronger."
Tips & Takeaways:
"We fully expected to miss a lot of things we were giving up when moving into a tiny space, like a mirror, oven, toilet, shower, personal space, and so many other simple things. After a very short time living in the van full time, we realized that we didn't really miss these things at all. Now we see ourselves as lucky for not having all of these little things that we have to worry about. We feel like the people that hear about van life see it as either this impossible lifestyle that they could never do because of the small space, lack of meaningless possessions, or the overall change of pace that most of our society has become accustomed to…OR they see it as this glamorous lifestyle where everyone is constantly in beautiful places, eating gourmet meals, have no responsibilities or worries, and live with complete freedom.
What people need to know about van life is that ANYONE can do it. Taking the first step and buying a van is the hardest part, but after that you will be so surprised at how "doable" van life really is.
"Taking the first step and buying a van is the hardest part, but after that you will be so surprised at how "doable" van life really is."
People also need to know that van life is hardly glamorous. Finding spots to sleep (a lot of the times in parking lots), working while on the road to support your travels and pay the bills, and peeing in jugs are just a few things that people don't always see when searching #vanlife on Instagram. Our advice for anyone interested in van life is this… GO FOR IT! There are always a million excuses for not chasing after a dream, and if you let yourself believe any of those excuses then you will regret that for the rest of your life.
We looked at vans for so long and did so much research about what we should be looking for, but as soon as we went to get our van it became so real and our excitement for what our lives were about to become was out of this world! Seriously the hardest part for most people is just committing to it, so just GO FOR IT. Make sure that on your death bed, all of your regrets are things that you did, not things that you didn't."
Erin & Kassidy
After looking for six months for a 4x4 van that fit their needs, Kassidy and Erin finally came across a van in Vancouver B.C. that checked all of their boxes. A few weeks later they were able to make the purchase, but ended up having to cross the U.S./Canada border four times in 24 hours since they didn't have any vehicle registration in the states yet. The border patrol wasn't very happy, but Erin and Kassidy were so stoked to begin their new journey with Mochi. Erin and Kassidy are transplants to the Seattle area and after numerous two-week long ski trips in their van, they decided they wanted more: more time to adventure and more time to spend with family across the U.S. They saved up enough money to take a year off and this month have begun their life full-time on the road.
Challenges:
"The hardest thing about van life is worrying about the van since it's our home and the tool that supports our adventure travel lifestyle. Any new noise or minor issue can seem like the end of the world when you could potentially be stranded and your life on the road could be over. Luckily, we haven't had any crisis or issues that has left us stranded!"
"What we own doesn't define who we are, it is the relationships that we've built that are the representation of our lives."
Favorites:
"Our favorite thing is that we can go to all these beautiful places, have waterfront views or be snuggled in the mountains, be close to all the outdoor activities, and not have to spend money on expensive hotels or homes to be able to get the same experience. Not even the same experience, but our own unique experiences because of the van. We often wake up in an incredible place and ask ourselves 'What would a hotel room cost with this view?' We get to experience that feeling over and over again, in so many different environments."
Tips & Takeaways:
"We would say if you have any interest or desire to live and travel in a van, just do it. Make that decision if it's what makes you happy and go for it. You don't need much, and things are easier on the road than they may seem. You will always find a way to make it work.
Goal setting is the most powerful tool you can use to transform your dreams into reality. Period. Whatever your goal may be, write it down, discuss it with friends and family, and then see how you can adjust your daily life to support that goal. We had discussed the possibility of living full-time in Mochi, but we just decided that if we didn't set it as a goal with an actual date we would be talking about it forever and never actually do it. So, about a year ago, we set the date of July 1st on our calendars and decided that every decision we made needed to be in support of the goal of leaving on July 1st. All of a sudden, it became easier to save money. Every decision we made had a background narrative of, 'Does this support our goal?' It made all the difference in our mindset and the eventual outcome.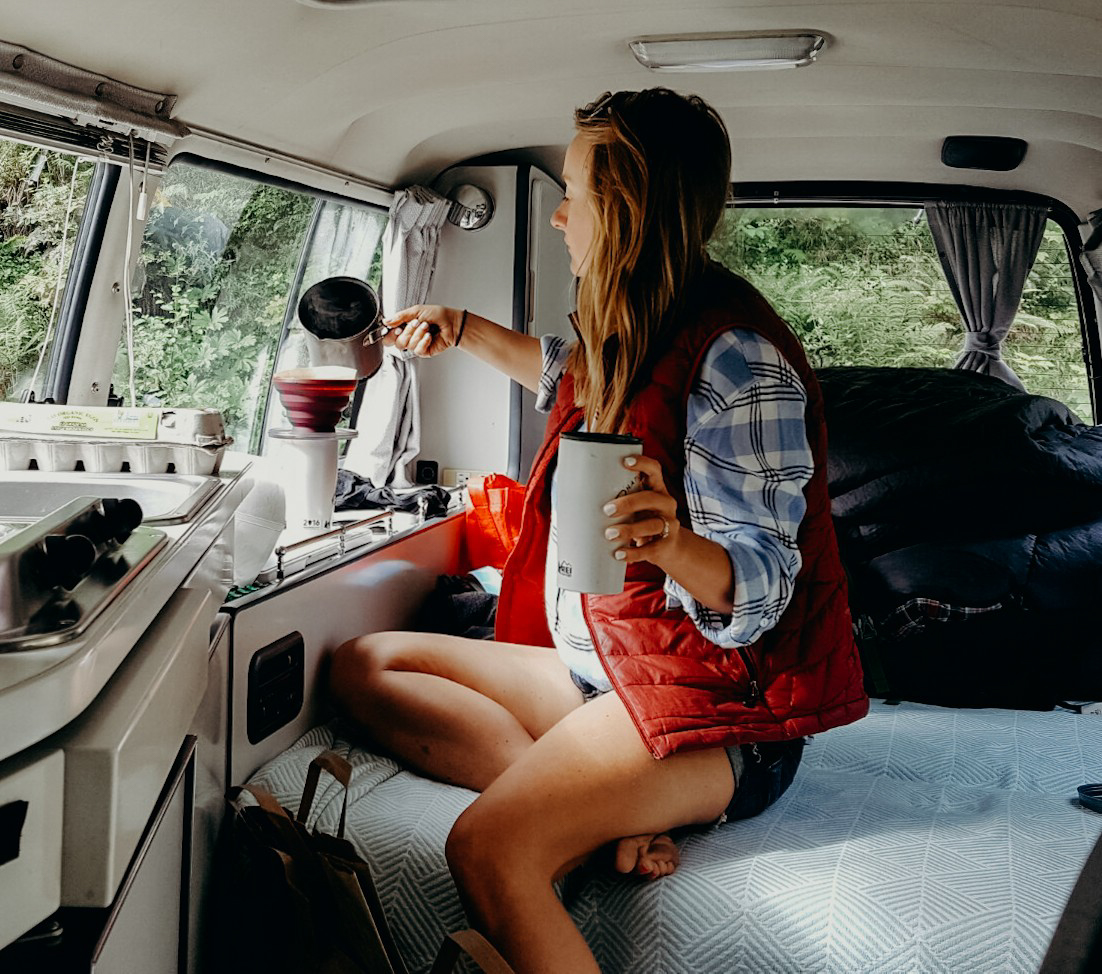 "For those just starting out, start taking some longer trips to see how possible it is to live on the road for an extended period of time."
For those just starting out, start taking some longer trips to see how possible it is to live on the road for an extended period of time. We went from weekend warrior trips to two-week long skitrips in the van that were so incredible and showed us how possible it was to live on the road for an extended period of time. We knew we wanted to do this full time when we came back from those trips and still wanted to be on the road and wanted to go farther.
As we've gone through the purging process over the last year, reducing our possessions piece by piece, it just became clear that we aren't what we own. What we own doesn't define who we are, it is the relationships that we've built that are the representation of our lives in Seattle. The hardest thing about leaving is saying goodbye to our friends. We have an amazing group of close-knit friends and we will miss them dearly while on the road. But, unlike physical possessions, well-built relationships will stand the test of time and are worth investing in. Relationships hold real emotion and identity."
Though each couple had their own journey to getting full-time on the road, they all shared two similar ideas: the van life community is thriving, and to just go for it. Many of these people didn't even know such a strong van life community existed when they began to put the pieces together to move into their van full-time, but have come to meet some amazing people on the road. So, are you packing your bag, getting rid of anything you don't need, and looking on craigslist for a campervan yet? I know I am.
See you out there!
Mecca Ray-Rouse